The 21st China Shunde (Lunjiao) International Woodworking Machinery Fair (abbreviated as CWMF 2020) will be held on December 10-13, 2020 at the Lunjiao Exhibition Hall, Shunde District, Foshan City.
With the theme of "Helping Science and Technology Innovation, Enabling Wood Machines", this year's expo will bring together outstanding enterprises in the woodworking machinery intelligent manufacturing industry chain. The planned exhibition area is 30,000 square meters and it is expected to attract more than 500 exhibitors.

The output value of China's furniture industry has ranked first in the world, and the automation of woodworking machinery for panel furniture in China has gone through a process of rapid development. In recent years, people's yearning for high-quality life and multifunctional home furnishings has brought new challenges to the panel furniture machinery automation industry.

The following mainly introduces the relevant situation of the automation of woodworking machinery for lower panel furniture.

1. Classification of panel furniture woodworking machinery industry
The research and development direction of woodworking machinery is different from the product structure, which can be divided into two categories: solid wood furniture woodworking machinery and panel furniture woodworking machinery. Solid wood furniture woodworking machinery is a machine that uses natural solid wood as processing materials. Solid wood furniture has high density, good durability, and good environmental protection, but the cost is very high, and the appearance is simple and simple, and it is not easy to disassemble and is bulky and inconvenient to handle; panel furniture woodworking machinery is a special kind of synthetic board, artificial high-density board Processing machinery. Panel furniture is flexible, easy to achieve individual customization, and has a stylish appearance, which fully meets the needs of modern young people's individual thinking and stylish appearance; panel furniture is connected by hardware, which is very convenient for assembly and disassembly; transportation is also very convenient, and the price is ordinary化. The different characteristics of the two types of furniture have created different development directions for the two types of equipment.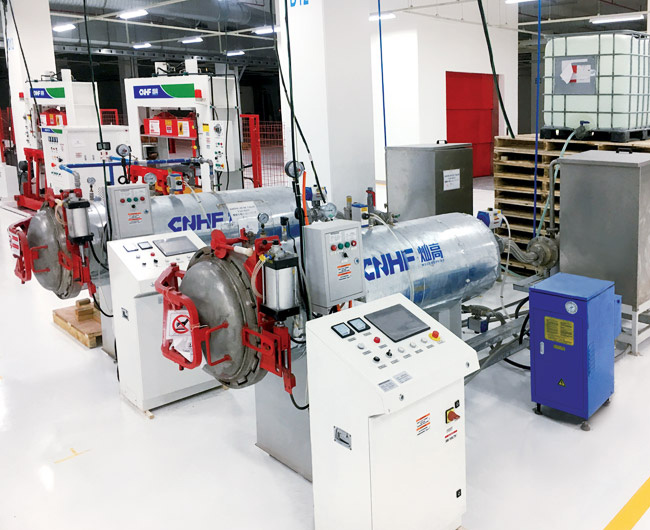 2. The development status of China's panel furniture manufacturing machinery automation
2.1 Related technical level
Some characteristics of wood-based panels have led to the emergence of many special processes. In addition to the machines that people use daily, such as edge banding machines, panel saws, routers, etc., some special manufacturing processes also introduce processing machinery such as cold and hot presses and double-end milling machines. At present, the safety, reliability, efficiency, automation level of the production line, intelligence level, and the degree of machine numerical control of panel furniture machinery on the market can reflect that the technical level of the industry has reached a relatively advanced level.
2.2 Current status of my country's panel furniture and woodworking machinery enterprises
Shijiazhuang Cangao High-Frequency Machinery Co., Ltd. is a manufacturer specializing in the design and production of high-frequency heating equipment, hydraulic and pneumatic equipment, and non-standard equipment for the metallurgical and food industries. This product is widely used in furniture, wood-based panels, flooring, packaging, instruments, handicrafts, plastics, textiles, food, and chemical fields.
With an experienced technical team, mature production technology, perfect quality control system, and strong after-sales service network, Cango has developed into a professional manufacturer with the fastest technological innovation, complete product variety, and largest production scale in the domestic industry. The main products are high-frequency generator product series, high-frequency frame connecting machine series, furniture joining board machine series, high-frequency wood bending forming machine hot press series, high-frequency steam vacuum wood dryer series, solid wood bending machine series. And can research and manufacture various customized HF equipment and various types of automation and efficient equipment according to customer requirements.
As a "high-tech enterprise in Hebei Province", Cango has introduced the IOS9001:2008 quality management system, and its products have passed the EU CE certification.
The product sales and service network covers Southeast Asia, Central Asia, Palestine, India, the Middle East, Russia, the European Union, and North America, and many other countries and regions.
3. Conclusion

In recent years, due to the continuous advancement of the market, the strength of all aspects of China's panel furniture machinery industry has also been continuously enhanced, and the level of related machinery technology has also been greatly improved, and gratifying results have been achieved in many aspects: such as scale and products. Quality, technological level, etc. However, further innovation and improvement are needed. Only in this way can we keep up with the technological process of the times, can we meet the increasing yearning for a better living standard of our people, and be able to maintain our youth forever in today's intense market competition.