Today, in the custom market environment, the transformation of solid wood custom furniture enterprises encountered some problems, especially the production of solid wood splicing board, and high-frequency splicing equipment has many advantages that can help enterprises to produce efficient splicing board. Heavy wooden board joining machine is a commitment to "save people, save materials, save time" intelligent and efficient splicing technology, with the development and progress of heavy wooden board joining machine, it will lead the future development of solid wood splicing process.
1、Increase production efficiency. Common splicing machine has a low output rate of wood panels, slow speed and other defects, heavy wooden board joining machine can achieve 5-10 times higher than the ordinary splicing machine production efficiency.
2、Production efficiency. It only takes 1-3 minutes for the glue to cure when high-frequency splicing. At the same time, when the temperature is low, ordinary splicing in the process may become slower, compared with conventional equipment, heavy wooden board joining equipment, the efficiency is greatly improved.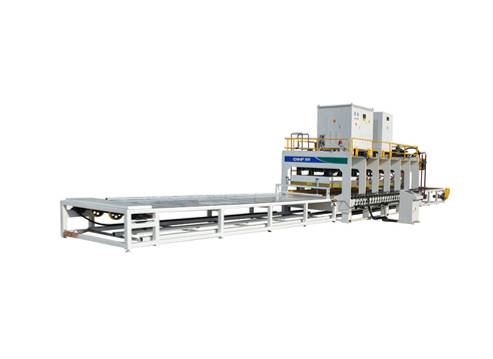 With the rapid development of the economy, China's exports of wooden furniture has increased greatly, so the demand for the main materials of wooden furniture is also increasing, in order to have an advantage in the market competition, it is necessary to optimize the production of solid wood splicing, reduce costs.
The future of solid wood splicing will develop to what direction?
1, parts standardization and parameterization. Parts must be standardized and parameterized for mass production in custom production mode, the production process of custom products is divided into the mass production of general parts and custom parts of the group custom production.
2, under the conditions of solid wood splicing production line to establish a perfect solid wood splicing production line, according to the production plan reasonable allocation of resources, perfect production line is to ensure that the basis of efficient production of enterprises.
3、Adopt group technology. In the mass customization production mode, improve the quality of products, reduce production costs, to meet the individual needs of customers, delivery time has become the core content of enterprise competition.
4、Flexibility is an important means to ensure that companies can respond to personalized orders and produce a variety of products.
5, the use of information management system. The information management system divides the enterprise order production into several modules, including order module, raw material module, production module, warehouse module, etc., which is the guarantee of efficient production and operation of the enterprise.
Why Choose Heavy Wooden Board Joining Machine?
1.Adopts crawler type charging and discharging, clears glue easily, and joining board of unlimited length.Haevy machine frame, stable performance, better plainness, sanding amount only 0.5mm, high timber percentage of output.
2.Labor saving: One person can operate it, more efficiency.
3.Intellengce: Touch screen huamn-machine interface, automatic fault alarming and remind of fault position and reasons.
4.It can automatically remind or set technology technical parameters according to board specifications and wood species.
5.Built in electric version instruction, it is convenient to view, especially for the new staff training.It is suitable for integrated board, container floor, and various kinds of specifications plate splicing.
6.Continuous length (over length) plate can be used to achieve subsection heating method, can be followed by a long saw with a fixed length.
7.High frequency heavy wooden board joining machine production line of CNHF company compares with other board joining machine, which can save 50-100 cbm raw material for users in each production line every year, and bring rich investment return.